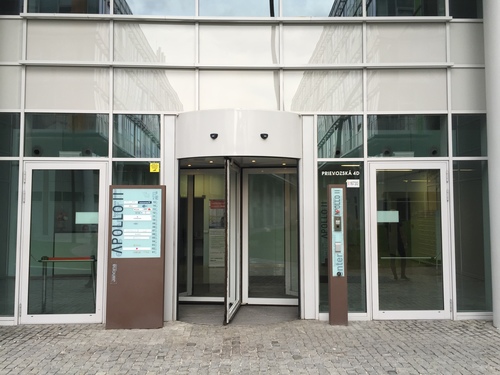 Prievozská 4D, Bratislava, Apollo II, Block E
Main entrance to the building
DOWNLOAD MAP OF APOLLO II AREA AND PARKING DIRECTIONS
Our office

AVENIAS Tax, s. r. o.
Regus Business Centre, Apollo II,
Block E, 9th floor
Prievozská 4D
821 09 Bratislava, Slovak Republic
E-mail: info@avenias.com
Telephone numbers:
+421 915 758 804 (Michaela Stachová)
+421 915 758 808 (Ján Vajcík)
Schedule a meeting or a call with AVENIAS team via Calendly.
Arrival instruction

Parking for the public is available in the underground garage of Apollo Busines Centre II on (-1) floor. After you park please take the lift of the block E (same direction as the ophthalmology clinic Cornea) to the 9th floor (Regus Business Centre).
Bus and trolleybus: 70, 96, 196, 201, 202, 212.